Chihiro Makio is an artist who chose to make her canvas sterling silver  That's the way her jewelry feels.  She constructs what she calls "precious little things" using silver and tiny glass beads she somehow sews onto and into the silver, creating texture and interesting surfaces on the metal.  One of her signature forms is a metal bead she calls a flora.  She solders together triangular pieces of silver, creating a an origami-like globe that is open to the inside.  But why am I sitting here trying to explain this to you when I can just show you instead?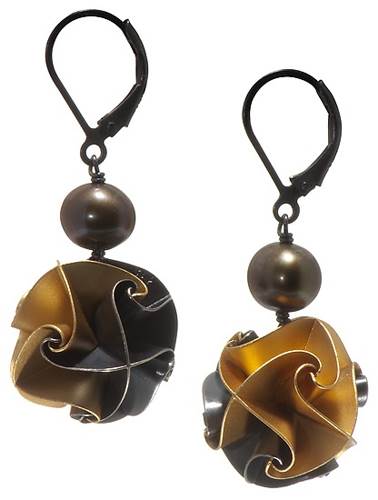 Large Flora Gold, Silver & Pearl Earrings, $240
These large flora earrings let you see what I was trying to explain.  See how the silver is folded and curled?  This pair combines oxidized with 24k gold plated silver.  The olive color freshwater pearls provide a nice contrast in texture and are a perfect finishing touch.  These beautiful wearable sculptures are 1-3/4 inches long by 3/4 of an inch wide.  And check out these sparkling 24k gold plated flora earrings.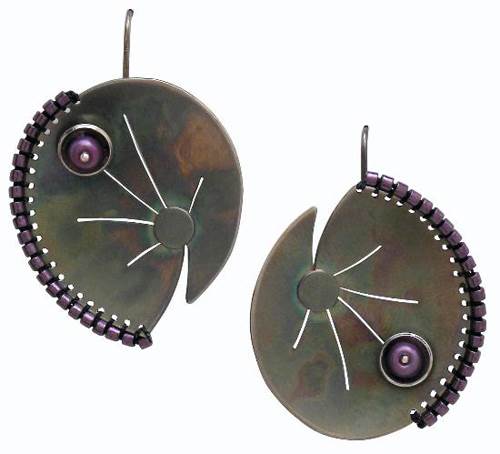 These earrings, from Makio's Lotus collection, are hand cut oxidized sterling silver.  Tiny glass beads are sewn onto the pierced edges.  I love the way the earrings seem to mirror each other.  They're 1-1/2 inches long by 1 inch wide.
These are two examples from this artist's diverse portfolio of wearable art earrings and necklaces.  So click on over and check them all out.