Storage containers that let you keep things out of sight, but close at hand when you need them, are much needed in our modern world of gadgets and contraptions and whatnot.  We used to be able to blame all the clutter on the kids, but nowadays pretty much everyone has a gazillion gadgets and projects to keep up with.  We're knitting and quilting and photographing and painting and DVD watching and gaming and doing all kinds of things that give us pleasure as they add to our clutter.  So containers that keep this stuff out of sight when we're not using it, but make easy to get to when we are, is the order of the day.  And if the container can do its job and be nice to look at too, you've pretty much hit pay dirt.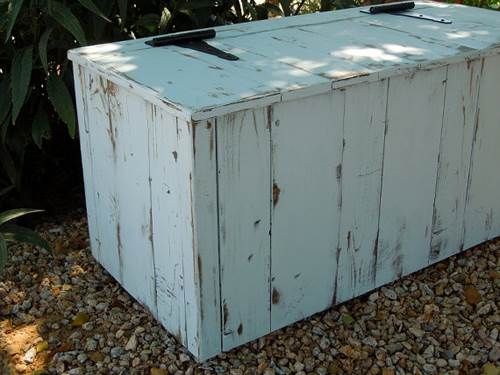 Cedar Wood Storage Trunk
This pretty cedar wood storage trunk by Lori Sanders is a perfect example.  It has thoroughly modern rustic charm, and at three feet long and 17 inches in height and in depth, it's a perfect size for storing linens or the wool throws you don't use during the warmer months.  And you can easily stash away your handwork projects to clear space on the couch for guests.   Lori also does this same storage trunk in a natural wood finish, so she's covered a wide range of decor options.

You need to plan ahead if you can see this trunk in your space.  Lori's trucks are made-to-order and it'll take a couple of weeks or so before yours arrives.   So click the image or link for more views and the details.  Or go to Lori Sanders' TrunkSpot storefront and navigate around from there.