These selections are very different from each other, but they are also all very versatile. These are the type of rings you can just leave on 24/7 because, while they work with jeans and tees, and they are also happy to help you get dolled up for a night out.  And, although amethyst is the February birthstone, it doesn't discriminate.  If you like it, wear it. 
This is a dainty ring. A daintily pretty ring. It's called Gentle Beauty, and the name fits. A small amethyst cabochon is ringed with 14kt yellow gold and set on a hand-cast sterling silver ring. It's sweet and simple. Available at Sundance. $118
This ring, called Six Wishes, is an interesting mix of dainty and strong. The six amethyst stones are small and dainty. And they are set on dainty silver wires. But those wires merge to form a strong and substantial base, and a very impressive ring. Available at Sundance. Currently on sale for $140
This set of three silver stacking rings consists of two set with impressive amethyst cabochons, and one florid engraved band. They can be worn all together, individually, or mixed to your liking. Their maker, India's Mahavir, calls the set Mystical Muse as a nod toward the belief that amethyst is the gem of mystical wisdom. Available at Novica. $48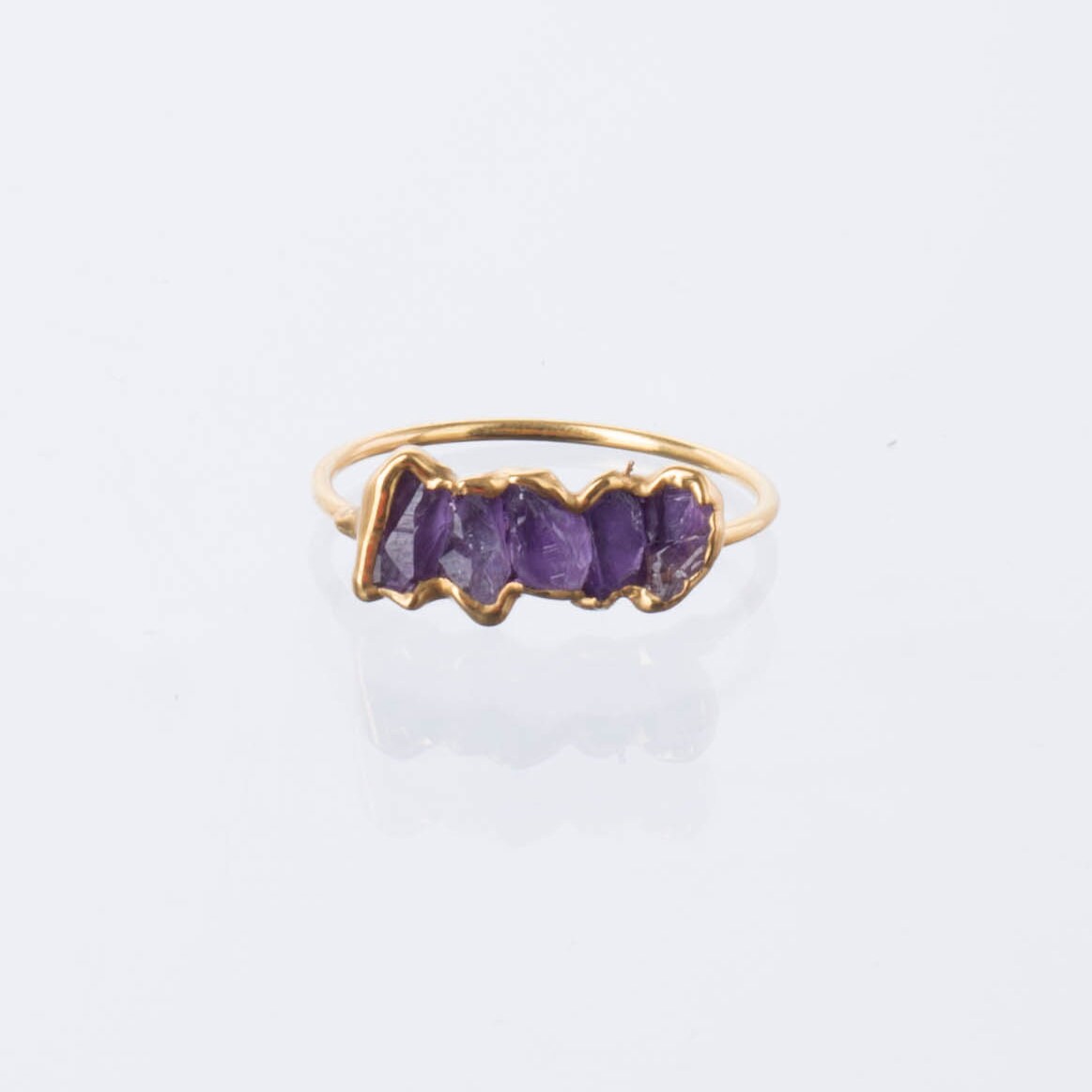 This pretty Eternity Raw Amethyst Ring consists of a natural uncut purple amethyst stone set in a 14k gold filled shank. This ring will work well worn alone, or stacked with other small and medium gemstone rings. It's made by Atlanta, Georgia, based jewelry artist Elizabeth Bailey Christenbury Lehrer. You'll find this ring and an impressive selection of other pieces in her Ringcrush Etsy Shop.
---
You'll find more of my handpicked amethyst jewelry in the February Birthstone Jewelry Collection. And besides birthstones, you'll find lots of other beautiful handmade jewelry at the Shopping Portal. So click over and check out the large selection of earrings, rings, bracelets, necklaces, and more.