These beautiful scarfs are all handmade.  They are colorful.  They are unique.  They are all-season friendly.  Some are made from handwoven fabric.  And they are all nice and big.  And, while these are some of my current favorites, there are lots more of my handpicked handmade scarves at the Heartful Shopping Portal.
This colorful scarf is named Sunrise Breeze because it captures the fleeting beauty of the sunrise.  But, to me, it looks like summer.  I see sunshine and flowers and happy smiles written all over it.  Woven by hand using cotton yarns, the scarf features a striped design with hues of orchid, persimmon, ochre, and saffron. Completed with fringes at each end, this accessory makes the perfect companion for all occasions.  You can click over to see more of my handpicked handmade scarves by Vinita, the designer of this scarf.
Inspired by the clearings she stumbled upon on her fair-weather woodland walks, Neena Jhaveri crafted this soft, inviting cotton scarf with the aid of fresh-picked flowers. I also see blue skies and cool breezes through fluttering leaves.  It's perfect for any time of year.  Handmade in India.
Shirani Mehrota and Yatin Narula's floaty, shawl-sized cotton scarf  combines woven-in plaid with a digitally printed field of abstract wildflowers in a visually interesting combo. Their blend of contrasting patterns almost makes it look like you're wearing two complementary scarves. It's light enough for changing seasons or over air-conditioned offices.  Made in India.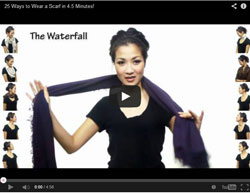 And, to become an expert at all the many ways you can wrap and tie these beauties, click on over to 40 Ways to Tie a Scarf in Three How to Tie a Scarf Videos for lots of easy-to-follow demonstrations.